Village Ambulance Service Offers New Hybrid EMT Program
Williamstown 
Williams College student Chloe Snow is preparing herself for the medical field.
The junior from Annapolis, Md., is a pre-medicine student majoring in chemistry, with an interest in the field of pediatrics. But, she says, textbook studies can only offer so much insight.
"There are some shadowing opportunities but not many clinical opportunities here to get students exposure to hands-on medicine," Snow said.
She sought out local emergency medical technician (EMT) training programs, but the closest ones at the time were in Pittsfield or North Adams, and not conducive to her schedule. So she approached Williamstown-based Village Ambulance Service about adding something to their training offerings that might be more accommodating.
VAS General Manager Shawn Godfrey thought it was a great idea, and began working with Snow and his staff to come up with a course plan. They ultimately developed a new hybrid course, featuring online and in-person training.
 "This is the first of its kind in Berkshire County," Godfrey said.
There are 13 Williams students and two community members currently participating in the 10-week program. It concludes in March with a testing for certification. While tuition ($750) is paid to and the course managed by VAS, the lab sessions are offered on campus.
"This is a great opportunity, being so close," said freshman Cassandra Pruitt, a pre-med student.
Snow was unable to start the program this winter, due to another scheduling conflict, but says she's proud to see her concept come to fruition.
"They used to have an EMT class at Williams, but with regulation changes, it went away … I was really excited when this program came through," she said.
"So far, it's going great, and Chloe had an integral role in making this happen," Godfrey said.
The online training is conducted through a Moodle-powered education platform, which includes interactive slide presentations, discussion forums, direct messaging, videos and weekly quizzes.
Students are required to complete a certain amount of online work before attending the weekly Saturday lab session, held from 9 a.m. to 3 p.m. Godfrey co-teaches the course with VAS operations manager Michelle Sawicky and EMT-Intermediate Jake Pyra.
During one of the first labs, students practiced administering CPR on special manikins equipped with a special CPR Rate Monitor that lights up with different colors indicating whether the students is delivering too many or too few chest compressions; a rate of 100 compressions per minute is the ideal.
Students also conducted resuscitation using a mock automated external defibrillator (AED) mobile pack.
Sophomore Hae-Min Jung, an aspiring physician, said, "It'll be good to actually turn our experience into a certification."
Students spend much of the class talking with the EMTS about real-life scenarios. The instructors explained that a patient's typically not found passed out on the ground, but are often in precarious positions, after collapsing in bathrooms or bedrooms, and they're often expelling fluids, be it vomit or blood.
"You're usually extricating people from a scary situation," Godfrey said.
"Becoming an EMT is a different type of extracurricular experience," said Snow. "We're really hoping to continue this program in future years."
Village Ambulance Service joins forces with the Berkshire Mall to offer EMT training
May 2012
Village Ambulance Service (VAS) Community Education and Training Programs has teamed up with the Berkshire Mall, Lanesborough, to conduct EMT-Basic training programs.
The mall has allocated nearly 3000 square feet in order to conduct both didactic and laboratory sessions in one central location. The vast indoor space also enables an on-site automobile for real-life scenarios, like patient extraction, scene safety and stabilization demonstrations.
Each year VAS provides two EMT-Basic Programs. One program starts in February, the other in September. Up to 20 students begin an intensive 3-month course of study leading to a certificate of completion and eligibility to take the Massachusetts Office of Emergency Medical Services EMT-Basic written and practical exams. The application and admission process is extremely competitive.
For enrollment information, please visit our mall kiosk by the food court or click here.
Village Ambulance Service Starts First EMS Explorer Post in Berkshire County
By Shawn Godfrey
Posted: 3/9/2010
Village Ambulance Service
Are you a teen trying to find what you would like to do in life? Are you a parent of this teen? Have an interest in the Emergency Medical Services (EMS) but don't know where to begin? Are you between the ages of 14 and 20 years old and a resident of Berkshire County? Well, you're in luck because we have the answers to these questions.
Through the National Learning for Life Foundation, an extension of the Boy Scouts of America, Village Ambulance Service's Explorer Post #911 is a program that introduces area youth to the EMS trade. Using Village Ambulance Service volunteer personnel, we create practical drills and situations for the participants to learn from. Our Explorers are given opportunities to train in a similar fashion as real-life Emergency Medical Technicians (EMT) with the emphasis on building and enhancing teamwork, social, and overall life skills.
The post is a youth-led organization. The youth officers are elected and activities are planned and implemented based on the resources of the organization as well as input from adult committee members, parents, and consultants. Each Explorer starts the post on a six month probationary period in order to learn the post's schedule, policies and procedures, bylaws, and overall expectations of the program.
For enrollment information, please call 413-458-4889.
Village Ambulance Welcomes New Hires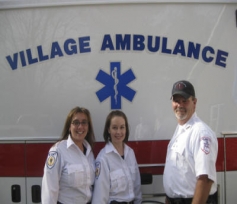 By Meghan Foley
Posted: 11/13/2009 01:22:41 AM EST
North Adams Transcript
WILLIAMSTOWN — For Angela Swistak, 33, becoming an emergency medical technician with Village Ambulance Service was one of the best decisions she ever made.
The Cheshire resident said Wednesday she always wanted to be an EMT, and after her husband became one and joined an area ambulance service, it was her turn.
"I was scared coming back to the classroom. I hadn't been in school in a while," she said.
Swistak was one of 21 people who participated in EMT basic training earlier this year as part of a program held by Village Ambulance Service.
After completing the program — which ran from February to May — and passing the state's EMT exam in June, she became one of five people immediately hired by Village Ambulance Service.
Shawn P. Godfrey, operations manager for Village Ambulance Service, said two of the new hires work per diem, while the other three [including Swistak] work 32 hours a week.
"One way an agency can recruit and hopefully retain people is to teach them. We decided to become a teaching facility accredited by the state," he said.
He said there is a demand for EMTs in the area, and more so for paramedics.
"One way to foster good paramedics, is for people to become good EMTs," he said.
The new hires have brought Village Ambulance's staff up to 35 people including nine paramedics, three EMT intermediates and 23 EMT basics.
Allison Meehan, 37, of Adams, had entered a nursing program more than five years ago, but due to life circumstances, had to take a break from it.
She said Wednesday even before she left the program, she didn't feel nursing was a good fit for her.
With her three children at good ages where she could return to school, she decided to enroll in the Village EMT program after seeing an advertisement for it.
"The emergency medicine aspect is different from nursing, and it's a great fit for me," she said.
She said every day is exciting having to think on her feet, and never knowing what medical situation she'll be called to.
"Anybody who does this really wants to be here and enjoys their job," she said.
Rich Haskins, 47, of Adams, was looking for a career change when he learned about the EMT course.
"I had worked construction pretty much my whole life, and things changed in the construction business," he said.
He said he liked helping people, and had thought of taking an EMT course throughout various points in his life, but never pursued it until February.
"It's more than a job. Just knowing you can help another human being — I never had that kind of experience," he said.
Prior to starting the EMT training program, Haskins remembers looking at the course's textbook and feeling overwhelmed by all the material he would have to learn.
Said Haskins, "I remember thinking, 'how I'm going to learn all of this?"
Godfrey told to him the material in the book would make sense once the classes started, and it did, he said.
"When the tone goes off, you're brain just starts going through stuff," he said.
Swistak described the feeling of responding to a medical emergency as her mind going through the textbook chapter by chapter.
"Each call is different," she said.
Swistak, Meehan and Haskins would ultimately like to become paramedics.
"The educational opportunities are wide open. We can go anywhere," Haskins said.
He said being part of Village Ambulance Service is like being part of a family with co-workers developing friendships between themselves and their individual families.
"This is family. Everybody knows everybody's kids. The kids play with each other. It's very family oriented," he said.
Swistak said being an EMT is beyond what she expected, and is excited to go to work everyday.
"We can save people's lives. It's an unbelievable feeling," she said.
Village Ambulance Service Community Education and Training Programs Becomes Accredited
August 2008-We believe in educating our community on how to prevent emergencies and how to handle emergency situations. Village Ambulance Service Community Education and Training Programs is pleased to announce their recent accreditation by the State of Massachusetts Office of Emergency Medical Services.
Our training center is now be able to teach members of the community to become Emergency Medical Technician-Basics (EMT-B) or already certified EMT-Basics to become Emergency Medical Technician-Intermediates.
What is accreditation? Accreditation is both a status and a process. As a status, accreditation provides public notification that an institution or a program meets standards of quality set forth by an accrediting agency. As a process, it consists of ongoing evaluation and frequent program improvement. Accreditation is a signature of training excellence achieved through strict compliance to the highest standards. [Massachusetts] OEMS mandates accreditation compliance for all initial Emergency Medical Technician (EMT) training programs conducted in the Commonwealth.
As of June 30, 2005, only training institutions accredited by the Massachusetts Office of Emergency Medical Services will be authorized to conduct initial EMT-Basic, Intermediate, and Paramedic training in the Commonwealth of Massachusetts.
Three Village Ambulance Service Employees Receive OEMS Examiner Certification
June 17, 2008-Village Ambulance Service employees successfully completed the Commonwealth's EMT-Examiner Training Program. The program is designed to allow the already practicing (1 year minimum) EMT to examine EMT students/candidates  during the practical phase of an OEMS approved EMT examination.
The program aides in the development of the EMTs role as an examiner, reviews the preconceptions and assumptions about the role of an examiner, details examiner responsibilities, and how to execute these responsibilities as an examiner.
The examiner is usually invited by EMT program directors to examine their students for a nominal fee. The Commonwealth has been dealing with a shortage of examiners, especially at the advanced level, for some time now and feels this and future examiner programs may assist in quelling the problem.
All three employees who atteneded are currently practicing as BLS examiners in the testing arena.
Village Ambulance Service Receives Training Center Status
December 15, 2006-Village Ambulance Service, in cooperation with the Emergency Care and Safety Institute (ECSI), has received official status as an ECSI Training Center.
The ECSI is an educational organization created for the purpose of delivering the highest quality training to laypersons and professionals in the areas of First Aid, CPR, AED, Bloodborne Pathogens, Pediatric Care, eACLS, as well as a multitude of other related safety and health curriculi.
The content of the training materials used by the ECSI  is approved by the American Association of Orthopaedic Surgeons (AAOS) and the American College of Emergency Physicians (ACEP), and is accepted by most healthcare institutions and/or employers.
Village Ambulance Service is now able to deliver many of the ECSI courses offered. This is accomplished through a cadre of experienced Village Ambulance Service Instructors who comply with ECSI policies and procedures to ensure a successful learning experience for all participants.
A key component to the teaching and learning systems is the state-of-the-art technology, which provides interactivities and simulations to help students become great emergency responders.
For all Village Ambulance Service training information, please contact our office. For more on ECSI, visit their website at ECSInstitute.org.