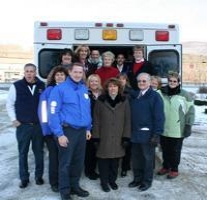 Ambulance Service / Hospice Offers Trips of a Lifetime
By Susan Bush
Article Launched: 12/09/2006 Saturday, December 09
WILLIAMSTOWN – Village Ambulance Service and the Northern Berkshire Visiting Nurse Association and Hospice have linked their facilities and their hearts and created a volunteer service for terminally people receiving hospice care.
"Sentimental Voyage" is the only such service in the state and was patterned after a similar Colorado-based program. The local initiative was tailored to meet the region's specific population and needs. The Northern Berkshire hospice service currently assists about 25 at-home or hospitalized individuals. Ambulance service Operations Manager, Shawn Godfrey, learned of the program, which offers no-cost ambulance transportation to terminally ill folks to a destination of their choice within the ambulance service region. Godfrey brought a proposal to ambulance service General Manager Bert Miller. Miller and Godfrey then shared the information and idea with the ambulance service Board of Directors.
New Dimensions
"I thought it was a great program and I thought there were a number of hospice patients in the area that this might help," Godfrey said during a press conference held today in North Adams. With board support, Godfrey presented the idea of a ride program to hospice Patient Care Coordinator Janet McClelland. McClelland said she was instantly impressed with the proposal. "Shawn came to me ready and knowing what this was about," she said. "[McClelland] brought a lot to the table and was able to pinpoint to me that way the people taking the rides should be treated," he said. "This adds another dimension to our job," said Godfrey. "And the rides add a wonderful dimension to our services," said McClelland.
First Ride
Initial meetings began in early November and plans turned quickly to a first planned ride. On Dec. 11, a 42-year-old wife and mother who is terminally ill will have a wish fulfilled via the service; she, her five-year-old daughter and her husband will tour the area and share the pleasure of holiday lights as a family. McClelland said that the program brings much to all involved. "This is a unique combination," McClelland said. "It brings together our group, which is about the end of life, and the ambulance, which is usually about saving lives. "EMTs, who will accompany the passengers, will observe an aspect of medical care that is much different from the intense acute situation arena they are accustomed to tackling. Hospice workers will become acquainted with EMTs on a personal level and become familiar with another dimension of care. And those who ride as passengers may very possibly have the ride of their lives.
Last Wishes
Many people facing the final days of their lives can name a place that they long to see, including a last trip to their own home. In many cases, people may be too ill to endure traditional vehicle transportation. Until now, such trips were often left to imagination and dreams.With the ride program, some dreams will become reality for patients and precious memories for family and friends. The ambulance service expects to provide about two "voyages" per month, Godfrey said. "These are last wishes," said McClelland. "People are in the hospital and they are very ill. They would like to go home for a last visit, and then return to the hospital."Additional likely destinations are lakes, parks, favorite childhood play areas, or even cemeteries, where an ill person may wish to sit at the grave of deceased spouse or relative. Ambulance service EMTs have been very supportive of the volunteer effort, Godfrey said. "It's been overwhelming," he said.
Patient Pre-Planning
Miller and Godfrey noted that the project overhead is negligible and wasn't a factor when board members considered the proposal. There have been occasions in the past when the Water Street-based service provided transportation to a terminally ill person, Miller said. "We've had situations when people have called and we've always taken care of that need," he said. "So when Shawn came along with this, we thought it would be good. And we support the structure of it. "Godfrey said that McClelland will offer information to volunteer EMTs about hospice care. McClelland said that patients interested in the service will be involved in pre-planning prior to the excursion."We'll be pre-planning with our patients and talking about what could happen, and we'll have plans in place to address any pain or symptoms that occur during the ride.
 
"Greatest Thing To Come Along In A Long Time"
Marilyn Kirby has been an EMT since 1961."I think this is the greatest thing to come along in a long time,"she said. EMT Heather Jusino noted that some people want to return home to retrieve items that they want to give to friends and family members before the time of their death."I think this is a good idea," she said. "I think the trips can ease a person's mind about things.""We're really excited to be partners with [Village Ambulance Service]," said Wendy Dubis, executive director of the visiting nurse and hospice entity. Robert Moulton is a hospice chaplain, along with Daniel O'Hare, who is a Catholic clergyman.   
A Powerful Experience
"The project lends itself to a sharing of gifts from the soul," Moulton said."The people who are doing this are privileged to be able to share in the last days of people's lives," Moulton said. "You will be ministered in a special way. This may be one of the most powerful things they will experience." Moulton's convictions and the significance of the ride service place emphasis end-of-life desires. Issues of dignity and end-of-life quality were a focus of Marcia Doran, who served as a revered Northern Berkshire Hospice agency director until her death in 2002.
 
At the end of her life, Doran received hospice care from the people she guided for many years. Doran spoke candidly about terminal illness and imminent death during an interview that was subsequently published just days before she died. Her words may explain what the service can deliver to patients and their families."Hospice allows people to live each day as though it is their last day, and enjoy every day. Some wonderful moments can be spent at the end of one's life."
Granting their final requests Terminal patients' wishes come true through groups 
By Jessica Willis, Berkshire Eagle Staff 
Article Launched: 12/08/2006 03:02:39 AM EST Friday, December 08 
WILLIAMSTOWN — On Monday evening, a 42-year-old Northern Berkshire woman with end-stage lung disease will take in the holiday sights with her husband and 5-year-old child. 
"She wants to see the Christmas lights in the county one last time," said Shawn Godfrey, an EMT-paramedic and the operations manager of Village Ambulance. 
In a collaboration between Village Ambulance and VNA & Hospice of Northern Berkshire, terminally ill patients in Northern Berkshire are fulfilling some of their final wishes. 
Monday's ride around the county is the first trip in "Sentimental Voyages," a program that allows the hospice's patients to take a trip, via a Village Ambulance, to local destinations of their choice. 
"It might be something as simple as going to get an ice cream cone or going to the lake to see the trees," said Janet McClelland, the VNA & Hospice of Northern Berkshire's patient care coordinator. 
Godfrey said he does not know of any similar program in the state, and Village Ambulance's staff will perform the service on a volunteer basis. 
He also said that the trips must remain within the county, and that they most likely will not exceed six hours in length. 
"It will be treated just like an ambulance call," he said, adding that the patient can bring two or three family members along on the trip. 
The inspiration for Sentimental Voyages came to Godfrey at an EMS conference in Las Vegas last summer, when he heard a lecturer from Colorado speak about a similar service. 
"It was very moving," Godfrey said. "I knew I wanted to bring it to the Berkshires." He contacted McClelland, who also thought it was a wonderful idea. 
"Its an enhancement of the current services that we offer," she said. "We have patients who are unable to ride in a car and need stretcher transport, and this is perfect for them." 
McClelland noted that Sentimental Voyages certainly was a change of pace for the EMTs at Village Ambulance, who are used to providing what she called "emergent, aggressive care." And that's not what a terminally ill patient needs. 
Godfrey agreed. 
"It's different for us to step back and not be in adrenaline-rush mode," he said. 
McClelland said VNA & Hospice of Northern Berkshire serves about 25 patients at their homes or at the hospice, and for those who are being treated in the hospice, a last trip is a simple but indispensable gift. 
"Many patients say to me, 'I just want to get home one more time,' " she said.
For more information on Sentimental Voyages or any other Village Ambulance Service sponsored community program, please call our business office at 413-458-4889.