Telephone:

413-458-9831
Toll free line: 

1-844-303-7739
Fax: 413-458-8476
Hours of operation: 24 hours a day, seven days a week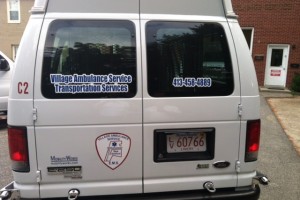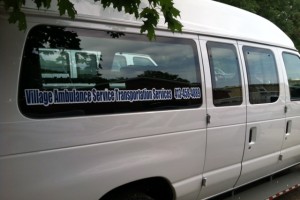 Our Village Ambulance Service Promise is to continually provide reliable, efficient, safe and quality Non-emergency Medical (NEMT)/wheelchair transportation services throughout the communities we serve.
Our NEMT/wheelchair transportation service utilizes several forms of service to assist our mobility impaired and wheelchair-bound clients for their many needs, including, but not limited to:
Medical Transportation
Medicaid, HST Programs, Other Insurance Carriers
Adult day care
Dialysis  treatments
Doctors appointments
Radiology appointments
Rehabilitation facilities
Dental appointments
Post-surgery transportation
Dental appointments
Hospital discharges
Interfacility transport
Obstetrics appointment
Out-patient surgery transportation
Pediatric and special needs
Non-Medical Transportation
Private Pay, Subsidized Ticket and Grant Programs
Churches/ Synagogues
Birthday Parties
Door to door service
Social events
Group outings
Support group meetings
Work transportation
Airport transport
Hotel appointments
Restaurants
Tourism
Special events
Shopping
Day/Evening programs
Our NEMT/wheelchair transportation vans are fully licensed and insured by Massachusetts and Vermont to provide wheelchair services. Each NEMT/wheelchair transportation van is equipped with a commercial-grade hydraulic lift in order to accommodate individuals who are wheelchair-bound or unable to climb steps. Additionally, each van has been built to comfortably accommodate clients and any additional attendants. Feel free to have a family member or aide ride along.
Whether delivering emergency medical services or wheelchair transportation, Village Ambulance Service prides itself on providing optimal safety and comfort. All NEMT/wheelchair van attendants are certified Emergency First Responders and trained to the American Heart Association BLS for the Healthcare Provider level. 
All Village Ambulance Service NEMT/wheelchair vans:
meet or exceed Americans with Disabilities Act of 1990 specifications;
are air conditioned;
have rear climate control;
are spacious & clean;
are equipped with first-aid kits & fire extinguishers; and
are mechanically maintained to exceed state and federal DOT safety standards
Whether visiting the doctor or attending a social function, Village Ambulance Service is here to satisfy your NEMT/wheelchair and ambulatory transportation needs. Make your reservation request today. Feel free to call us and speak with our NEMT/wheelchair transport administrator regarding your specific needs, or use the convenient information request form below.