Welcome!
Village Ambulance Service is a locally managed organization with deep roots and commitment to Williamstown, MA and its surrounding communities. We provide emergency (9-1-1) call response to the greater Williamstown area, and offer a wide range of medical transportation services from advanced life support to non-emergency transportation for a variety of consumers including hospitals, managed care organizations, skilled nursing facilities, communities, and you, our most valued customer.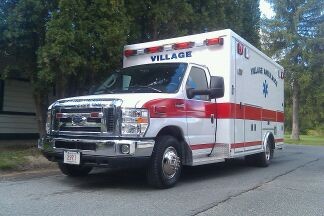 Latest News
Village Ambulance Service Installs $15,000 in New Gear to Help with Transport of Bariatric Patients
By Scott Stafford, Berkshire Eagle
Posted:   01/05/2015 05:28:31 AM EST
Williamstown
To improve patient care and protect the safetyof emergency medical technicians, Village Ambulance has equipped a new ambulance with gear to allow safer transport of bariatric patients.
Bariatric medicine is the treatment of obesity and the health liabilities that come with it, and the ambulance service has been experiencing a significant increase in the number of bariatric patients needing transport.
"We have found that there are more patients requiring this kind of service," said Shawn Godfrey, general manager of Village Ambulance. "We're seeing about two patients per month that meet the body mass index definition of a bariatric patient. About five years ago, we were only seeing about one every six months."
Transporting bariatric patients — who can weigh between 350 to 650 pounds and typically suffer from heart disease, diabetes or respiratory issues — presents a unique challenge for EMTs, usually requiring four to five crew members to safely move the patient in and out of a conventional ambulance, Godfrey noted. The new bariatric gear will allow the same work to be done by three crew members.
"We have always made accommodations for bariatric patients," he said, "but retrofitting this ambulance will allow us to better meet their needs. It enhances the safety of patients and staff."
The ambulance with the bariatric gear was delivered Friday, and will be on 24-hour active duty, Godfrey said. The gear consists of a winch, two ramps and a specialized stretcher built with a wider wheelbase and wider surface to handle more weight and larger dimensions. The cot also has extended push bars for easier, more stable navigation, and an "O" ring to connect with the winch.
Godfrey said that in under 60 seconds, the gear can be installed in the back of the ambulance patient compartment. With the winch cable attached to the stretcher, the patient can be towed up the ramp and into the ambulance with improved safety for both the patient and the EMTs.
The bariatric rig cost about $15,000, with $5,000 of it coming from an anonymous donor, Godfrey said.
"We're always looking to expand our capabilities," Godfrey said. "This is one more resource that Village Ambulance can now offer to our community and to nearby communities that may not be able to afford such a resource."
The ambulance in which the bariatric gear is installed is also new, at a cost of about $90,000. That brings the number of ambulances used by Village up to four.
Village Ambulance responded to roughly 3,600 calls for service in 2014, Godfrey said, an increase of about 600 calls over 2013.